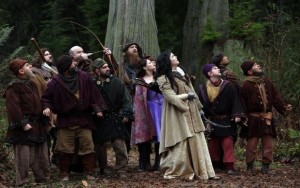 I've been trying to remain relatively unspoiled, but this episode's official synopsis (after the jump) doesn't reveal too much.
There are two exciting things about this episode:
1. It's written by Jane Espenson, who has written many of the show's best episodes, including Skin Deep, Red Handed, and The Miller's Daughter.
2. It's about Regina. More specifically, it sounds like it's about Regina teaming up with other people to accomplish a mutual goal. Will Regina be able to play nicely with others?
Here's my slightly edited version of the official description:
"Witch Hunt"
Present day
Emma arrives in Storybrooke with Henry and reunites with her friends and family.
She discovers that no one remembers how they were transported back — and they don't remember the past year they had spent in Fairy Tale Land.
Emma is sure that someone in town is responsible for this new curse.
She teams up with Regina in an attempt to uncover this mysterious person's identity.
Flashback
In the Fairy Tale Land that was during the past year, Regina, with the aid of Robin Hood, attempts to break into her castle, which has been overtaken by the Wicked Witch.
… on "Once Upon a Time," SUNDAY, MARCH 16 (8:00-9:00 p.m., ET) on the ABC Television Network.
Guest stars
Lee Arenberg as Leroy/Grumpy
David Anders as Dr. Whale
Raphael Sbarge as Archie Hopper/Jiminy Cricket
Beverley Elliott as Granny
Rebecca Mader as the Wicked Witch of the West
David-Paul Grove as Doc
Gabe Khouth as Mr. Clark/Sneezy
Faustino Di Bauda as Sleepy
Jeffrey Kaiser as Dopey
Michael Coleman as Happy
Mig Macario as Bashful
Sean Maguire as Robin Hood
Raphael Alejandro as Roland
Michael P. Northey as Friar Tuck
Jason Burkart as Little John
Nesta Chapman as nurse
"Witch Hunt" was written by Jane Espenson and directed by Guy Ferland, who previously directed Tiny and Dark Hollow. This is the 14th episode written by Jane Espenson.
Promo: