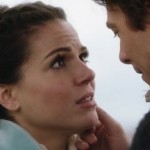 Long-simmering questions get answers, and connections between characters, deep in the past, are uncovered in this excellent episode. We learn how Regina became evil and why she hates Snow White. We find out that Regina's mother is the miller's daughter, that August W. Booth does not lie, and that Katherine is still alive. There is much here to ponder during the break.
Recap
Regina's mother
Regina's mother, Cora, is no ordinary social climber. She's a sociopath who won't hesitate to kill an innocent person or ruin her daughter's life in order to move up a notch on the social ladder.
Cora has the kind of magical powers that Regina will wield later in her life, but we don't know yet how Cora got her powers or how they were transmitted to Regina.
In an earlier comment thread, several of this blog's readers came up with the brilliant suggestion that Cora is the Queen of Hearts who we saw in Wonderland.
Regina, the stable boy, and Snow White
The younger Regina looks very different from the Evil Queen/Storybrooke mayor that we know and love (or love to hate) — almost as if she's a different person — thanks to the acting skill of Lana Parilla and the skill of her makeup artist. It's amazing what a difference the lack of red lipstick can make.
Regina saves the young Snow White who is clinging to a runaway horse — an accident waiting to happen, which was set up by Cora, foreshadowing the manipulations Regina herself will use after she becomes evil.
Cora accepts the marriage proposal, on Regina's behalf, of Snow White's father, the grateful King Leopold. Regina and Daniel plan to run away, but Snow White accidentally sees them kissing. When Regina explains that she loves Daniel, Snow understands. Snow really does care for Regina and wants her to be happy. Regina swears her to secrecy, saying that above all, she must never tell Cora.
Cora manipulates Snow, playing on the child's grief at losing her own mother, to get Snow to reveal the secret. This, of course, is not Snow's fault, as she is only a child who couldn't be expected to outwit someone like Regina. Snow's intentions are good. She is only doing what she thinks is best for Regina.
Cora kills Daniel in cold blood right in front of Regina, and says (suggesting something must have happened in her own past), "Love is weakness, Regina. It feels real now, at the start it always does, but it's illusion. It fades. And then you're left with nothing. But power — true power — endures."
Regina flips out and blames Snow, starting the world-spanning epic of revenge.
Storybrooke
In a flashback, we see Mr. Gold propose a deal to Regina where he would make something "tragic" happen to Mary Margaret, which seems to show that he orchestrated the whole thing for Regina's benefit. But did he really? With Mr. Gold, things are seldom what they seem.
Emma finally realizes that Sydney is not on her side when she finds he has bugged her office.
Alan Dale (King George and, on LOST, Charles Widmore) makes what I think is his first appearance in Storybrooke as the D.A. Albert Spencer.
August W. Booth
August is back, wanting to help Emma clear Mary Margaret's name. As they climb down to the supposed crime scene, August has a sudden twinge of pain that he calls "shin splints," and he starts to limp — which supports the theory that he could be Rumpelstiltskin's son, as Rumpelstiltskin had a pronounced limp. Later, though, August says, as he had in previous episodes, "I'm not a liar." And that suggests he could be Pinocchio.
They find a piece of metal which they later match up to a shovel in Regina's house, but the shovel then disappears.
Regina
Regina admits to a bewildered Mary Margaret that she knows Mary Margaret did not kill Katherine.
Katherine
The very last shot of the episode reveals that Katherine is alive. Talk about a cliff hanger! We'll have to wait until April 22, after the hiatus, to find out what happens next.
True love
In an early scene Regina tells Daniel that she's afraid of her mother because her mother's magic is so powerful. Daniel replies, "True love is the most powerful magic of all. It can overcome everything." Later, Regina echoes those lines, telling young Snow that "Love — true love — is magic. And not just any magic, but the most powerful magic of all. It creates happiness."
But Daniel and Regina's true love, in the end, cannot overcome Cora's evil. Cora's magic is more powerful than true love's magic.
The idea that true love is the strongest magic has been a recurring theme throughout the show. How do you reconcile that with Cora's being able to kill Daniel?
Earlier predictions
This blog has smart readers. In an earlier comment thread, Robinsparkles14 predicted that Regina loved the stable boy, planned to run away with him, told Snow White, Snow White spilled the beans, and the stable boy was killed. Amazing prediction! Honorable mention to Khadija for predicting part of it — that Regina was in love with someone of lower standing, and that Snow White found out and accidentally blurted out the secret.
Credits
The Stable Boy was written by Edward Kitsis and Adam Horowitz, the creators of the show. It was directed by Dean White, who previously directed Snow Falls, True North, What Happened to Frederick, and Heart of Darkness. He is also the director of the season finale, A Land Without Magic.
Barbara Hershey, who played Cora, Regina's mother, has won and been nominated for many awards for her work in movies and on TV. In an off-screen LOST connection, she was romantically involved with Naveen Andrews (Sayid on LOST) for 12 years, from 1999 to 2010.
Bailee Madison, who played the young Snow White, is 12 years old and already has a long list of credits for movies and television shows, as well as award wins and nominations, including winning the Critics Choice Movie Award for her role in the film Brothers.
Noah Bean, who plays Daniel, the stable boy, won a NY Emerging Talent award in 2011, and has appeared in theater, television, and film.