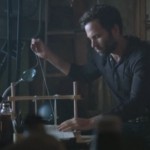 In this Prince-Charming-centric episode we find out that Abigail/Katherine isn't so bad after all, but the Evil Queen (still) is. We learn the Mysterious Stranger's name; Henry gets his book back, except it's not exactly his book; Mary Margaret breaks up with David; and Katherine disappears.
Recap
It's Prince Charming and Abigail's wedding day, but the groom has fled. King George sends out his goons to find him, but Prince C has a surprising rescuer — the jilted bride herself. She doesn't mind that the wedding was called off because she also loves another — Frederick, who was turned to gold by accidentally touching King Midas.
Prince Charming risks his life to get a cup of magic water that will bring Frederick back to life. The Prince is brave and honest — the exact opposite of his Storybrooke self, David, who is cowardly and a liar. We watch the action flip back and forth between FTL and Storybrooke, emphasizing the contrast between the two personalities of Prince Charming and David.
David, Mary Margaret, and Katherine
David promises Mary Margaret that he will tell Katherine the truth, but he chickens out, and just tells Katherine he's unable to connect with her.
Katherine finds out from Regina, who oh-so-conveniently has incriminating photos of David and Mary M in her top desk drawer. Then Mary Margaret finds out from Katherine that David didn't tell her the whole story.
In a nice twist, Katherine, true to her Abigail roots, realizes that David and Mary M are true lovers, and that she and David are not.
Mary M, meanwhile, gets the Scarlet Letter treatment from the town folks, which seems anachronistic. The town may or may not be in 2012, but it's taking place in a time recent enough to have cell phones and the internet.
Mary M blames David for the appalling way the town treats her, which I thought wasn't totally fair, because it wasn't only David's lie at the last moment that was wrong, but also the lie that both she and David perpetuated all along. In any case, he did do her wrong, and once again, we see that the course of true love is not running smoothly.
The Siren
David bravely goes to the lake where few come back alive. It's guarded not by an ugly beast, but a beautiful siren, perhaps an allusion to the Lady of the Lake.
She's a shapeshifter who looks like whoever anyone wants her to be. She turns into the likeness of Snow White, and Prince Charming kisses her. I thought he was a goner for sure, but he manages to kill her and escape. (But will that kiss, like slow-acting poison, come back to haunt him later?)
He frees Frederick, whose Storybrooke equivalent is the gym teacher.
The Mysterious Stranger
We learn the mysterious stranger's name — August W. Booth, with the W. standing for Wayne. He does something to Henry's book — either copies it, adds something to it, or changes it.
When we first saw him fiddling with the book, I thought he was making a copy of the book because it looked like he was in a photographic darkroom. But now I'm not sure. Maybe he was creating new pages and adding them to the existing book.
Katherine and Regina
Katherine doesn't catch on that Regina is not really her friend, and there's a great moment where Katherine hugs Regina, and Regina's cheek muscles twitch.
Katherine, in her newfound understanding of true love, leaves a letter for David and Mary Margaret, telling them they should be together. Too bad she told Regina about the letter. The scenes cut back-and-forth between Katherine driving away towards the town border, which we know no fairytale character can safely pass — and Regina burning the letter.
Is Regina's burning the letter hurting Katherine, the way Regina's squeezing the heart hurt and ultimately killed Graham? Or is it just the curse that prevents Katherine from leaving? Either way, we see Katherine's car crashed on the side of the road, just before the "Storybrooke" sign — and in this week's twist ending, the gym teacher/Frederick finds the car, and Katherine is not inside.
What we didn't see
We didn't see Rumpelstiltskin or Mr. Gold. Maybe Robert Carlyle got a week off to rest after his intense performance last week.
LOST shout out?
When Emma and August W. Booth go for their drink — not cocktails, but magic water from the lake where Prince Charming battled the Siren — they have a conversation about faith versus reason that reminded me of similar conversations between Jack and Locke in LOST. Booth takes Locke's side, talking about magic and telling Emma she has to take a leap of faith, while Emma is Jack-like, wanting to see evidence before she will believe.
At one point, Booth says, "If you drink the water from this well, something lost will be returned to you." Normally, I wouldn't have thought much of this — after all, the television show LOST does not have a monopoly on the word "lost" itself — except that it happened during a scene that was otherwise very reminiscent of one of LOST's central themes.
Editing
Usually, I don't notice the editing much, but there were several dramatic and interesting cuts in this episode:
— The horseback chase scene in the beginning ends on a cliffhanger. Prince C, thinking he is safe, turns around and finds two hooded thugs right behind him moving in fast. The screen goes to black — I thought for a commercial — but then the camera, surprisingly, cuts to David and Katherine quietly eating dinner, which was quite a contrast.
— We see Booth and Emma on Booth's motorcyle leaving the boardinghouse and pulling out into the street — and then, seconds later, we see them in the middle of the forest. That jarring cut heightened the feeling of magic and altered reality that the scene was about.
— Prince Charming rises triumphantly from the enchanted lake after vanquishing the Siren — then the camera cuts to a hand in what looks like a bucket of bloody water — but it's David, washing the red "Tramp" paint off of Mary Margaret's car.
Gripe
Sometimes, especially in the Storybrooke scenes, the show hammers home a point when it would be better to let it speak for itself. It's as if they feel compelled to explain the punchlines to jokes:
When Mary Margaret and Emma are sitting in the cafe talking, Mary M asks Emma why she didn't say anything after seeing the two cups in the sink, etc. Emma has a great line: "I'm not your mother." They should have left it at that, instead of having Mary Margaret add, "According to Henry, I'm yours."
Questions
The Mysterious Stranger's Name
We learned that the mysterious stranger's name is August W. Booth. That's certainly a strange name. It must mean something — but what?
I thought it might be an anagram, but when I tried anagramming it, all I came up with was "Wash, But Go Out," and "Was Bought Out." I tried anagramming the full name (August Wayne Booth), and got "Big Tawny Outhouse," "Gunboat Awes Youth," and "Gay Tuba Townhouse."
I don't think any of those are the answer to this riddle. What do you think the name might mean?
David and Prince Charming
Why was David so different from Prince Charming — cowardly instead of brave, lying instead of honest? Was it just because of the curse? Or do you think something happened to Prince Charming, that we haven't yet seen, that changed his fundamental character?
I think most, maybe all, of the other characters have kept their basic personalities in both worlds. Why would David be different?
The Gym Teacher (Frederick)
Why was he driving down that road, at the end of the episode? Was he following Katherine?
Katherine
Where is she? Any guesses?
The Mysterious Stranger, aka David W. Booth, but still mysterious
Who do you think he is now?