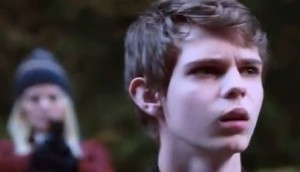 It's reunion time in Storybrooke. More after the jump (slight spoilers):
"The New Neverland"
Storybrooke
When the Neverland crew flies back to Storybrooke, the town's residents are thrilled.
But trouble awaits. Pan secretly puts a plan into place that will shake up the townspeople's lives.
Fairytale Land flashback
Snow White and Prince Charming's honeymoon isn't very romantic when they go in search of a mythical being that could stop Regina in her tracks.
… on "Once Upon a Time," SUNDAY, DECEMBER 8 (8:00-9:00 p.m., ET) on the ABC Television Network.
"Once Upon a Time" stars Ginnifer Goodwin as Snow White/Mary Margaret, Jennifer Morrison as Emma Swan, Lana Parrilla as the Evil Queen/Regina, Josh Dallas as Prince Charming/David, Emilie de Ravin as Belle, Colin O'Donoghue as Hook, Michael Raymond-James as Baelfire/Neal Cassidy, Jared S. Gilmore as Henry Mills and Robert Carlyle as Rumplestiltskin/Mr. Gold.
Returning guest stars
Lee Arenberg as Leroy/Grumpy
Keegan Conner Tracy as Blue Fairy/Mother Superior
Beverley Elliott as Granny
David-Paul Grove as Doc
Gabe Khouth as Mr. Clark/Sneezy
Faustino Di Bauda as Sleepy
Jeffrey Kaiser as Dopey
Michael Coleman as Happy
Mig Macario as Bashful
Robbie Kay as Pan
JoAnna Garcia Swisher as Ariel
Gil McKinney as Eric
Rose McIver as Tinker Bell
Parker Croft as Felix
Freya Tingley as Wendy
James Immekus as keychain (Wendy's brother)
Matt Kane as glasses (Wendy's other brother)
No new guest stars this week
"The New Neverland" was written by Andrew Chambliss and directed by Ron Underwood.
Promo: