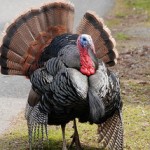 This Thursday, there won't be a Once Upon a Time in Wonderland episode. Instead, in the Once-Wonderland timeslot, ABC will be showing A Charlie Brown Thanksgiving, the traditional holiday special that has been on the air every year since 1973.
Earlier this week, I ran a poll asking if you would rather watch OUAT or Miley Cyrus. It was no surprise that the votes were VERY lopsided, with more than 98% saying they'd rather watch OUAT.
Here's another poll, this one pitting Once-Wonderland against the Charlie Brown special. I think the vote may be closer this time, but let's see how it turns out …
Once-Wonderland will be back on Dec. 5, 2013, with episode 1×07 Bad Blood.
Happy Thanksgiving, everyone!