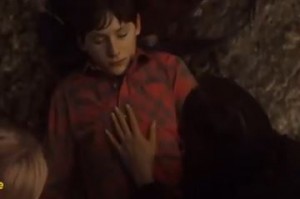 There won't be a Once Upon a Time episode on November 24, 2013, because it's being pre-empted by the American Music Awards. So the next episode will be broadcast on December 1.
In the last episode, we saw a flashback about Rumplestiltskin's childhood which answered many questions we have had. In this episode, there will be another flashback that will address questions we've been wondering about since early in Season 1. More after the jump (spoilers):
"Save Henry"
Neverland
Henry's life hangs in the balance, and …
The race is on to stop Pan from gaining full magical powers from the heart of the truest believer.
Storybrooke flashback (this should be good!)
Regina decides to fill a void in her life and, with Mr. Gold's help, sets out to adopt a baby.
… on "Once Upon a Time," SUNDAY, DECEMBER 1 (8:00-9:00 p.m., ET) on the ABC Television Network.
"Once Upon a Time" stars Ginnifer Goodwin as Snow White/Mary Margaret, Jennifer Morrison as Emma Swan, Lana Parrilla as the Evil Queen/Regina, Josh Dallas as Prince Charming/David, Emilie de Ravin as Belle, Colin O'Donoghue as Hook, Michael Raymond-James as Baelfire/Neal Cassidy, Jared S. Gilmore as Henry Mills and Robert Carlyle as Rumplestiltskin/Mr. Gold.
Returning guest stars — Storybrooke
David Anders as Dr. Whale
Raphael Sbarge as Archie Hopper/Jiminy Cricket
Beverley Elliott as Granny
James Immekus as "keychain" (Wendy's brother)
Matt Kane as "glasses" (Wendy's brother)
Returning guest stars — Neverland
Robbie Kay as Pan
Rose McIver as Tinker Bell
Parker Croft as Felix
Darien Provost as Lost Boy #1
Jack Di Blasio as Lost Boy #2
Freya Tingley as Wendy
New guest star
Julian D. Christopher as adoption agent.
"Save Henry" was written by Christine Boylan & Daniel T. Thomsen and directed by Andy Goddard.
Promo: