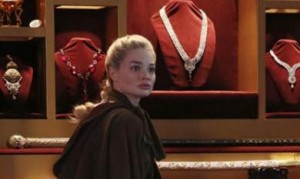 In Heart of Stone, we will learn about the history of a puzzling relationship, which may not seem as strange after we know more about it. Plus, there will be lots of action going on in present-day Wonderland. More after the jump (spoilers)
Present-day Wonderland
Cyrus skillfully escapes from Jafar's castle.
The Red Queen convinces Alice to help her acquire magic dust in exchange for information about Cyrus.
The White Rabbit is left in a compromising situation.
Flashback
Will Scarlet and Anastasia jump through the looking glass to enter Wonderland against the wishes of Anastasia's mother, who disapproves of Will.
They soon realize that life in Wonderland isn't what they had hoped for.
Ana is humiliated while attending a ball at the palace. She convinces Will to steal the crown jewels, but the King catches her.
The King makes a proposition that Anastasia can't refuse – to avoid prosecution by marrying him and becoming his Queen.
[This storyline reminds me of Cora's backstory in OUAT, where Cora was humiliated at the palace, went to a ball, got caught by the King, and ended up marrying into the royal family.]
…. on "Once Upon a Time in Wonderland," THURSDAY, NOVEMBER 14 (8:00-9:00 p.m., ET) on the ABC Television Network.
"Once Upon a Time in Wonderland" stars Sophie Lowe as Alice, Michael Socha as Knave of Hearts, Peter Gadiot as Cyrus, Emma Rigby as The Red Queen with Naveen Andrews as Jafar and John Lithgow as the voice of the White Rabbit.
Guest stars:
Hugo Steele as Orang
Brian George as Old Prisoner
Matty Finochio as Tweedle #1
Ben Cotton as Tweedle #2
"Heart of Stone" was written by Katie Wech and directed by Paul Edwards.
Promo: