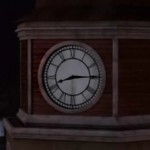 ABC announced the official finale date for the show, and it's Sunday, May 13, with the episode being at the usual 8:00 PM time.
That's going to be episode #22, and its title is Is It the Truth. (Editing to add 3/26/12: The finale title is A Land Without Magic. This is official, from a tweet from series creator Adam Horowitz.) After that, the show will go into its summer hiatus. No word yet on when or if the network will be showing reruns over the summer.
So as of today (March 17), there are seven more episodes left, and we are a little more than two-thirds of the way through the season. It feels like it went by so fast!