Update: Live stream will start at 5:00 PM Eastern / 2:00 PM Pacific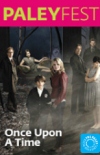 The PaleyFest 2012 Once Upon a Time panel will take place this afternoon (Sunday, March 4, 2012) at 4:00 PM Eastern Time (1:00 PM Pacific Time).
You can watch the whole thing for free on your computer via live stream. You can also watch it on a mobile device via the free PaleyFest app.
The program will also be available on Hulu starting on March 15.
Most of the show's biggest stars will be on the panel, along with the producers — Ginnifer Goodwin (Mary Margaret/Snow White), Jennifer Morrison (Emma), Robert Carlyle (Mr. Gold/Rumplestiltskin), Lana Parrilla (Regina/Evil Queen), Josh Dallas (David/Prince Charming), Raphael Sbarge (Archie Hopper/Jiminy Cricket), Edward Kitsis and Adam Horowitz (Creators/Executive Producers), and Steve Pearlman (Executive Producer).
I'm going to be live tweeting the panel discussion at @OUATfan, while watching the live stream.
PaleyFest is an annual festival dedicated to television, put on by the Paley Center for Media. PaleyFest 2012 is paying tribute to 13 television shows, and you can watch all the panel discussions via live stream or on the app.
Update — picture of the panel: