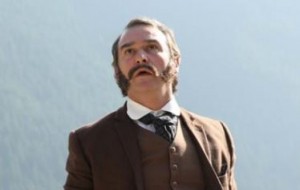 We'll learn more about Alice and about Jafar. More after the jump (slight spoilers)
Bad Blood
Wonderland
When Alice discovers that her father is in Wonderland, they begin healing their broken relationship, which leads to her having to make a difficult decision.
Flashback
Young Jafar is emotionally distraught after his mother dies, and we find out what drove him to become the unforgiving villain he is today.
… on "Once Upon a Time in Wonderland," THURSDAY, DECEMBER 5 (8:00-9:00 p.m., ET) on the ABC Television Network.
"Once Upon a Time in Wonderland" stars Sophie Lowe as Alice, Michael Socha as Knave of Hearts, Peter Gadiot as Cyrus, Emma Rigby as The Red Queen with Naveen Andrews as Jafar and John Lithgow as the voice of the White Rabbit.
Guest stars
Anthony Keyvan as Young Jafar
Shaun Smyth as Edwin
Matty Finochio as Tweedle #1
Ben Cotton as Tweedle #2
Brian George as Old Prisoner
Bad Blood was written by Jane Espenson and directed by Ciaran Donnelly.
Promo: