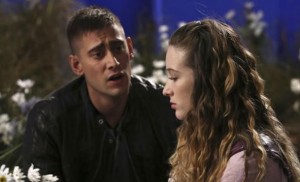 Will this episode be as good as last week's? Keeping fingers crossed. Meanwhile, there is more info about the episode after the jump (minor spoilers)
"Who's Alice"
In England
Jafar pays a visit to the Asylum and Dr. Lydgate to uncover information about Alice.
In Wonderland
Alice heads to the Black Forest on her quest.
An unlikely ally uses magic to wake up the Knave. He searches for Alice and finds her in terrible danger.
Cyrus tries to evade the Red Queen.
In England — flashback
Alice returns to Victorian England and her father after losing Cyrus.
… on "Once Upon a Time in Wonderland," THURSDAY, NOVEMBER 21 (8:00-9:00 p.m., ET) on the ABC Television Network.
"Once Upon a Time in Wonderland" stars Sophie Lowe as Alice, Michael Socha as Knave of Hearts, Peter Gadiot as Cyrus, Emma Rigby as The Red Queen with Naveen Andrews as Jafar and John Lithgow as the voice of the White Rabbit.
Guest stars
Johnny Coyne as Dr. Lydgate
John Prowse as Carpenter
Shaun Smyth as Edwin
Matty Finochio as Tweedle #1
Brian George as Old Prisoner
Heather Doerksen as Sarah
Kylie Rogers as Millie
Hesham Hannoud as Ghazi
Troy Young as Painter
Kerry van der Griend as Thief #1
Sean Owen Roberts as Thief #2
John R. Taylor as Old Peddler
Dallas Sauer as Young Man
"Who's Alice" was written by Jerome Schwartz and directed by Ron Underwood.
Promo: