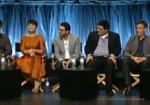 The best lines and moments in the event, plus photos of Robert Carlyle (Rumpelstiltskin) with sexy beard stubble and Ginnifer Goodwin (Snow) with Josh Dallas (Prince Charming) looking as cute together as their characters do on the show.
Best lines and moments (paraphrased from my memory and tweets):
Kitsis/Horowitz (one of them, I don't remember which) made a Freudian slip, introducing the OUAT writers, who were sitting in a group in the audience, as the "Lost writers."
Robert Carlyle, on how he created the character of Rumpelstiltskin: He was influenced by having worked with theatrical masks and by the broad strokes of commedia dell'Arte. The voice was inspired by the voice of his son.
The moderator asked when they were going to start dropping hints about how the curse will be unravled. Kitsis/Horowitz ("Kitwitz"?) said, "Maybe we already have."
The moderator mentioned the Evil Queen's fantastic costumes, and the room erupted in cheers.
Lana Parrilla: "I feel like I'm flying when I play the Evil Queen."
Raphael Sbarge: "Archie has a lot of job security." (Because of all the people in the town who could really use some therapy.)
Steve Pearlman (the producer who isn't "Kitwitz") described the "green stage" that they use. More than a mere green screen, it's got green on three sides and on the floor, enabling them to do elaborate special effects. Lana Parrilla said that when she's playing the Evil Queen she has to use all the powers of her imagination because the Queen's castle isn't there — just a table with a candelabra on it.
We got an answer to the question a lot of people have wanted to know: How long does it take to put on Rumpelstiltskin's make-up? Robert Carlyle said it took two hours to put on, and one hour to take off. He also said it took 20 minutes just to put on his boots and leggings.
Jennifer Morrison said that one day Robert Calryle started peeling off his Rumpelstiltskin skin and throwing it at her. "It was really gross."
When asked who they would like to play, if they could play a different character, Jeniffer said she would like to play Prince Charming; Josh said Rumpel; Ginnifer said Henry; and Raphael said the Evil Queen.
Audience question: Is OUAT based more on Disney or on the comic book "Fables"? Kitwitz answered that it was based more on their own take on the stories.
They also said we'll learn the truth about August W. Booth — who he is and what he's up to — sometime this season.
The best line of the night, from a member of the audience, which cracked up the entire room: "A very personal thank you to Josh Dallas for moving my beautiful 12-year-old granddaughter on from Justin Bieber."