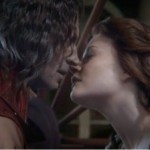 Rumpelstiltskin blows his chance at love; Emile de Ravin is a true Beauty as Belle; Mr. Gold becomes shockingly vicious; Rumpel and the Evil Queen struggle for power in two worlds — and the episode ends, again, with a twist.
Recap
Fairytale World
Belle's town is losing a war against the Ogres. Rumpelstiltskin pops up to offer a deal — he'll save the town if they give him Belle to be his caretaker. Belle's father and fiance both say, "No way!" but in this slightly feminist-tinged account, Belle declares herself her own person and goes.
Rumpel acts Beastly, locking Belle in a dungeon beneath his elegantly furnished rooms and treating her as a servant but, improbably, she falls in love with him anyway.
He sends her on an errand, a way to test her or simply let her go. Along the way, she meets the Evil Queen, who tells her that true love's kiss can undo any curse and turn Rumpel back into an ordinary man.
Belle goes back and kisses Rumpel …
… and it starts to work — his skin starts losing its green tint, his claws become more like hands — but then he freaks out, saying it was a trick by the EQ, a way for the EQ to sap his power so that she could be the most powerful in the land.
He's half right — the EQ was trying to trick him — but he overlooks the part about true love. Callously, he tells Belle that his power is more important to him than her love, but she calls him on it and tells him he's just a coward, that he is afraid to believe she could love him, afraid to take that chance.
He lets her go. The Evil Queen shows up, and tells him Belle was dead. She says Belle's father shunned Belle when she returned and locked her in a tower, where she was treated cruelly until she jumped to her death.
Rumpel makes a shrine out of a cup that Belle had chipped — which becomes significant in the Storybrooke part of the story.
Storybrooke
Mr. Gold, Storybrooke's one-percenter, seizes a florist's delivery truck when the man is late on a loan payment. After the man breaks into his house, Mr. Gold captures him and goes all Jack Bauer on his ass, nearly choking him with his walking stick, and then beating him viciously with the stick's handle. It was a side of Gold we had never seen, and a display of cruelty I thought stuck out as not fitting in with the rest of this show. We've seen violence in OUAT before, but it was in the realm of fantasy — the EQ ripping out someone's heart, Rumpel making people disappear with a wave of his hand, a soldier getting gored through the middle with a spear, magic turning people into shrunken dolls and garden gnomes. This beating, though, was too close to real-life brutality for comfort. (editing to add 2/19/12: on rewatching this, I saw that I was mistaken about Gold choking the man with his stick — he was pushing the stick against the man's chin, not down his throat, as I had originally thought. So that's not as bad. The subsequent beating with the cane's handle, though, remained horrifying.)
In any case, we soon find out the cause for Gold's rage. The delivery man was the Storybrooke incarnation of Belle's father, who Gold believed was responsible for Belle's death. And the item the florist/Belle's father stole — at Regina's bidding — was the chipped cup that was all Rumpel/Gold had left to remind him of Belle.
Emma arrests Rumpel, and he has a meeting with Regina through his jail-cell bars. They're still tussling for power. Regina acts very Rumpel-like, telling him she wants to make a deal — and her request is that he tell her his name. In return, he gets the cup back.
In the episode's final twist, Regina descends into another dungeon-like space, opens a door — and there is Belle. So we know three things: (1) The Evil Queen lied to Rumpel when she told him Belle was dead; (2) Rumpel is not omniscient and can be fooled by the EQ; and (3) It appears Belle's story is not over and that Emile de Ravin will be coming back.
The Valentine's Day subplots
Sean proposes to Ashley (Cinderella), and she is thrilled to accept. David and Mary Margaret don't have such a good day, though. David gives Mary Margaret a Valentine's card, but — whoops! — by mistake he gives her the card he bought for his wife. Not a good move.
What we didn't see
The Mysterious Stranger did not appear at all and neither did his mysterious typewriter or Henry's book, which is now in his possession. There was, thankfully, only a little bit of the tussle between Emma and Regina — my least favorite part of the show. Jared Gilmore must have gotten a much-needed vacation because Henry only had a brief scene.
Rumpelstiltskin promised Belle (and us!) that he would tell the story of his son — but in the end, that was just a teaser, as all he said was that he lost his son, which is something we already knew. This suggests there will be at least one more Rumpelstiltskin backstory to tell his son's story in full.
Love and its obstacles
This episode showed both external and internal obstacles to love.
Ashely and Sean had an external obstacle to their love — his long hours at work — that was easily overcome.
Mary Margaret and David's external obstacle — his marriage — will not be so easy to overcome.
Rumpelstiltskin's obstacle was internal. It was his inability to believe that Belle could truly love him and his fear of taking a chance in the face of uncertainty.
Empty hearts
Right before she leaves, in the episode's most significant scene, Belle says to Rumpel: "Now, you've made your choice, and you're going to regret it forever. All you'll have is an empty heart and a chipped cup."
There's a huge parallel here between Rumpel and the Evil Queen, who also has an empty heart — a heart that we've seen cannot be filled.
This sense of the similarity between the EQ and Rumpel became even stronger in the episode's last scene, where they make their deal through the prison bars, with Regina using some of Rumpel's trademark techniques. They appeared to be enemies who were perfectly evenly matched, almost mirror images of each other.
Hey maybe these crazy empty-hearted kids can find love with each other! Okay, no, probably not.
LOST and previous-episode references
No LOST references that I could see (other than the presence of Emile de Ravine), but did you notice the shrunken dolls in Rumpel's castle that we had originally seen in the Jiminy-Cricket-centric episode and then in Mr. Gold's pawnshop?
Questions
Why did Regina ask Mr. Gold to tell her his real name? Didn't she already know who he was? I assume she was trying to get power over him by getting him to say his name out loud — the way Rumpelstiltskin got power over his victims by getting them to say their names. But what is that power? And since when did the Evil Queen have access to it? The name thing always seemed to be Rumpel's shtick, not hers.
Do you feel more or less sympathetic to Rumpelstiltskin after this episode?
Do you think Belle will be a recurring character in Storybrooke? If so, any guesses as to what her Storybrooke identity might be?