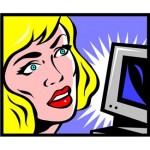 I've decided to go mostly spoiler-free, after getting overly spoiled a few episodes back. And trying to post spoilers while closing my eyes didn't work, ha. Instead, here's a do-it-yourself guide for spoiler-lovers on where you can go to find the latest OUAT spoilers:
Official Press Releases
ABC issues press releases for each episode. These have a short plot synopsis, info on who wrote and directed the episode, and a list of the cast members and guest stars. These are mild spoilers. They don't give away TOO much in the plot summaries. Sometimes the list of guest roles, though, can reveal quite a bit about what the episode is going to be about.
These are usually issued well in advance of the broadcast dates. At the moment, press releases for the next three episodes are already posted. So this is a good place to look if you want to see what's going to happen fairly far ahead.
Those are here: Once Upon a Time official press releases
Official sneak peek videos
Although these short clips seem to be chosen so as not to give away any major plot surprises, they are a lot more spoilery than the press releases.
You can usually find them on YouTube, but you have to sort through a lot of spam. It helps to filter by recently uploaded, to put "sneak peek" and the episode name or number in the search, and to look for clips that are under 2 minutes long.
You can also find them sometimes on the official Facebook page. At the moment, there is a sneak peek clip there for the next episode (Episode 9, True North). (I watched about half of it, and then thought that there might be a surprise coming, and stopped.)
Unofficial video clips
Spoiler TV sometimes gets clips that are much longer than the official sneak peeks. These can be EXTREMELY spoilery, so be careful if you're not a hardcore spoiler-lover.
Other
ABC sometimes does special promotions. Last week, for example, they posted the first eight minutes of the episode. Best way to keep up with anything out of the ordinary is to check the show's Facebook wall.