(last edited 12/8/11)
In a shout-out as blatant as last week's Apollo candy bar, MacCutcheon whiskey, a fictitious brand especially prized by Charles Widmore and appearing in many episodes of LOST, showed up in OUAT. 
Here's the bottle on Once Upon a Time, in Mary Margaret's house. Emma is just about to pour a drink …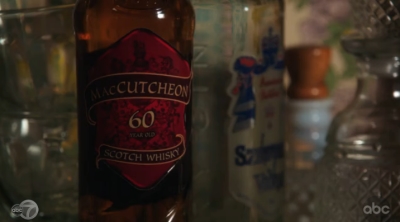 … for Mary Margaret and herself.
Hat tips to eagle-eyed viewers f—yeahlost, Ziggy, David, and @melissadonovan.