(Last edited 12/10/11)
Recap
In fairy tale land, Rumpelstiltskin is once again pulling everybody's strings, even those of the king (played by Alan Dale, who was Charles Widmore on LOST). The king's son, who is not really his son, but was given to him as part of a deal years ago with good old Rumpel, dies flamboyantly. Prince Charming, not yet a prince, but a dewy-faced impoverished shepherd trying to save his mother's farm, finds out (from Rumpel, natch) that he is the twin brother of the dead-by-barbecue-spit prince, and he is called in to pinch-hit as a dragon slayer.
He succeeds, to everyone's surprise, but then he's stuck marrying King Midas' daughter, who we met in an earlier episode when she was sulking in the carriage. The fairy tale segment ends where we came in before, with Snow White about to ambush the carriage and save the Prince from his bitchy fiancee.
In Storybrooke, things don't go as well for our fated-to-be-together (but probably not before the end of Season 1) couple. John Doe, who we now know as David Nolan, leaves his wife Kathryn. That's a green light for Mary Margaret, who goes out to meet him at the bridge.
Before he gets there, though, he has a moment when he "remembers everything." The show fakes us out here, leading us to think he is remembering his life with Snow White. Instead, he "remembers" his fake memories of his life with Kathryn and decides to go back to her – breaking Mary Margaret's heart and leaving her to find an unlikely confidante in Dr. Whale.
Meanwhile, Emma catches the Sheriff climbing out of Regina's window, in an almost slapstick moment.
This week's theme: Do the right thing
The episode is about doing the right thing or making the right choices. Prince Charming in the fairytale world and David and Mary Margaret in Storybrooke struggle with figuring out what is the right thing to do, and how they should balance duty and desire.
A secondary theme, perhaps, is "Be careful what you wish for." Prince Charming wanted to save his mother's farm – and he did, but then he could never see his mother again. David Nolan wanted to remember his past – and he did, but he remembered the wrong one.
Questions
In the scene in the pawnshop, Mr. Gold/Rumpel seemed to want David/Prince Charming to remember his fairy tale life. It seems like Rumpel has a stake in undoing the Evil Queen's curse. But if so, why? He was the one who gave the curse to her in the first place. What is he really up to?
In the scene, which I think may be the pivotal scene of the episode, David is drawn to the glass unicorn mobile …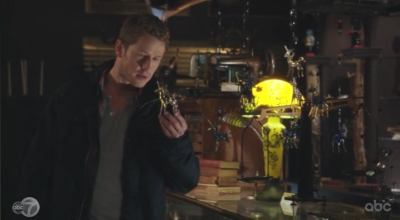 … which we had seen before, in the Pilot episode …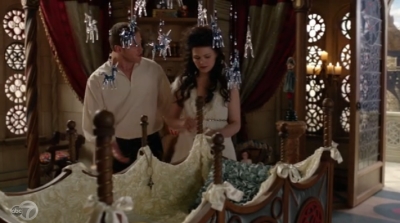 Mr. Gold then speaks for the first time, saying: Charming.
David: I'm sorry?
Gold: The mobile. Isn't it charming? … Exquisitely designed, masterfully crafted .. I could get it down, if you like.
But David is drawn instead to the windmill.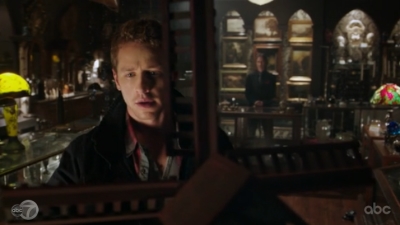 Gold: See something you like?
David: Where did you get that?
Gold: That old thing? That's been gathering dust for … forever.
David: I think … this belonged to me.
Gold: Really? Are you sure?
David: Yes. I remember.
Gold knows everything. I'm convinced of that. But what is he up to?
Best moment
Rumpelstiltskin laughing. (video clip no longer available, alas)
Possible LOST reference that's probably not a real reference
"Shepherd" could be a reference to Jack & Christian Shephard in LOST — though that's probably a stretch.
Story origins
Prince Charming
"Prince Charming" is apparently a generic name, not a specific character from a traditional tale. Wikipedia credits Oscar Wilde's The Picture of Dorian Gray (1890) with the first use of the exact term "Prince Charming" (as opposed  to "King Charming," or a prince who happened to be charmed, or a fairytale non-royal named "Charming," all of which occurred earlier).  In Dorian Gray, "Prince Charming" is used ironically — which is also how Snow White used it on first meeting the prince.
Dragon slaying
 Dragon-slaying stories go back a long time, at least as far back as the ancient Egyptians, whose artwork shows royal heroes spearing serpents or crocodiles with "burning mouths." The most famous dragon-slaying story, that of Saint George, is from the 12th or 13th century.